Can't make it to one of our public craft nights? We would love for you to host a private party at one of our studios! Private party opportunities are currently open at our Whitinsville and Northborough locations.
We are presently booking private parties for groups of 10 or more. This is a great opportunity for you to celebrate a special occasion (bachelorette, babies and birthdays to name just a few), and walk away with a beautiful new piece for your home décor.
Simply click here to choose your date.
Choose any three crafts from the entire Crafty Nest menu – there's a lot of beautiful options to choose from! These will be the craft selections given to your party guests (each guest may choose one craft). Many of the crafts can be personalized with family names, and special dates; and all of the crafts can be customized according to color preferences of wood stain and paint.
The Crafty Nest will take it from here and create an electronic registration link to share with friends and family, which will allow them to sign up and pay online (no money collecting for you!).
The Crafty Nest requires a 10-person minimum for a private party to be held, however we are able to accommodate a maximum of 30+ party goers. The Host must register and pay before releasing the registration link to their guests (this will serve as a deposit to reserve your date). -Once the party has reached the 10-person minimum registrations, the host will be refunded their deposit and provided a "free craft" (up to a $50.00 value).
Party guests are welcome to bring their own food and beverages. The Crafty Nest will provide a popcorn bar and water.
---
Private Parties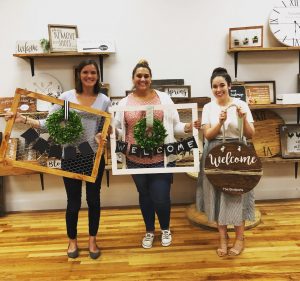 Hosting a party with your closest friends? Get us onboard as we'll come up with some nifty ideas to get everyone talking. Click below to get your party booked!
---
Kids Parties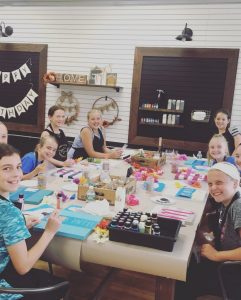 We all know how crazy kids parties can get. Why not keep those little hands busy with some fun crafts for everyone to enjoy. See the button below to lock in your date!
Book Your Party
---
Fundraisers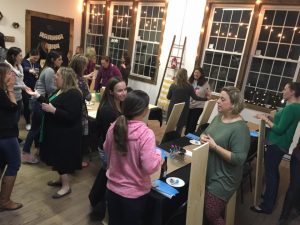 Looking for that extra draw for guests to attend your upcoming fundraiser? We can theme a craft to your event and maximize your crowd. Click the button below to get scheduled!
The Crafty Nest prides itself on offering personalization such as family names, dates, etc.. This requires preparing and cutting each guest's craft prior to the event. For that reason, private parties that are canceled by the host within 10 days of the event will result in the host forfeiting their deposit. All other party guests will have a choice of picking up their raw materials to make at home, or pay an additional $15 for The Crafty Nest to complete their project. Parties canceled by host outside of 10 days prior to their event will result in the host forfeiting their deposit, and all other guests will be fully refunded.